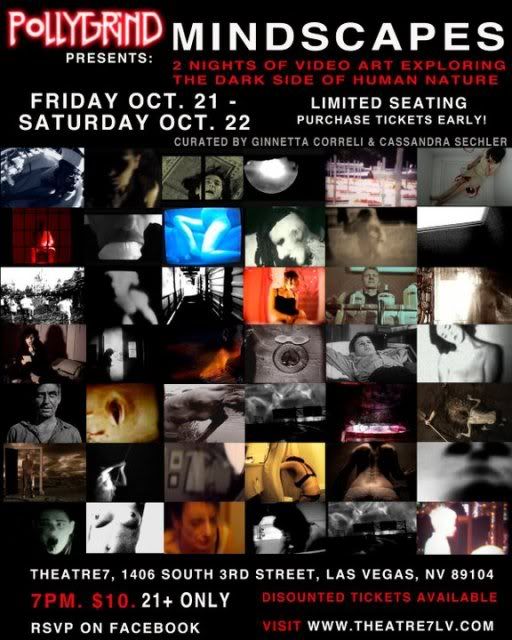 MINDSCAPES IS A FILM EVENT WHICH STRIVES TO BRING TOGETHER ESTABLISHED AND EMERGING ARTISTS FROM AROUND THE WORLD.
FILMMAKERS CASSANDRA SECHLER AND GINNETTA CORRELI HAVE CURATED THE MINDSCAPES SHOW IN ORDER TO CREATE AN ALTERNATIVE SPACE FOR DARK, PERSONAL FILMS OFTEN IGNORED BY THE COMMERCIAL WORLD.
WORKS SELECTED REPRESENT A CRITICAL MOVEMENT HAPPENING UNDER THE BELLY OF MAINSTREAM CULTURE.
ARTISTS:
CRAIG MURRAY
ALASTAIR COOK
ANTHONY ROUSSEAU
H.D. LANGE
CASSANDRA SECHLER
NARA DENNING
LINDSAY LAVEN
GINNETTA CORRELI
MOSES
VERONICA MOTA
BEATRICE GUENET
NUNO O.C. MADEIRA
SIMON THEIS HANSEN
NABIL SHABAN
JASON MARSH
RUSTY RODIER
MARIANO RENTERIA GARNICA
ROLAND QUELVEN
TAMAS MESMER
GUILLAUME BAYCHELIER
JAMIE DEAN
JEAN-LUC CHARLES
FABIO SCACCHIOLI
ADRIANA NOVOA
CRAIG JACOBSON
NICLAS HALLBERG
ALEXANDER JORGENSEN
EAT CAKE AND WORSHIP SATAN
AS HUMAN PATTERN
JOAO KREFER
SHIMRIT
IOANN MARIA
FRED L'EPEE
JEREMY ROMBERG
MADEMOISELLE L.